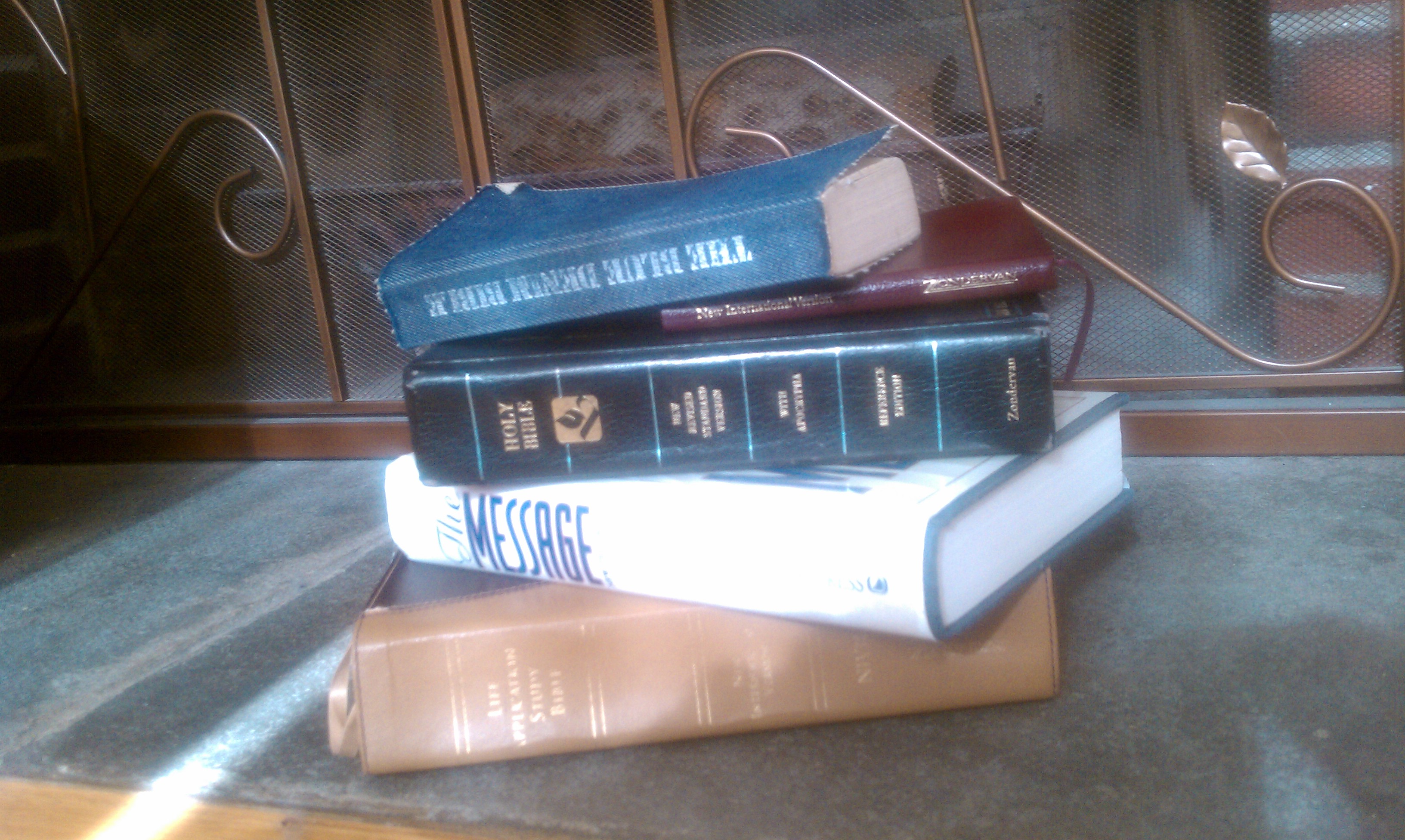 Bible 365 - Introduction and Overview

Produced by The Listening for God Ministry
Copyright 2019
The purpose of this blog is to encourage you to join fellow Bible students on a 365 day tour of the Christian Bible. If you join for the whole trip you will be reading every chapter and verse, from Genesis to Revelation, divided into daily rations that are relatively easy to digest. You can reference the Table of Contents below for the 1-year plan or go at your own pace.
Table of Contents
Click the Table of Contents link to review what we have been studying and then click on a link for any day to to see that day's material.


What They Said
We have had great feedback during our first six months into the study:
"This is an impressive study!"
"I have found it to be a blessing!"
"I think what you have been doing on Listening for God is great as is Bible 365"
"I continue to read, enjoy, and am nourished by your study course"

Our participants have also been providing their own insights, which we eventually work back into the comments and have pointed out the occasional missing link, which we correct as soon as possible. Please join us!


A Varied Pace
The first book of the Bible begins at an extremely fast pace as a lot of significant events happens within a few short passages. Consequently our study will reflect this pace. The Bible continues on this sprint through the through the first five books, known as the Pentateuch. Subsequent chapters have some overlap for reinforcement and then become very reflective. We will spend a good portion of the middle of the year reading Psalms, Proverbs, Prophets, books that are well suited for long hot days when life might slow down a little bit.
One Student Helping Another
Do you remember any classroom situations where you needed help and found that your fellow students were actually a better resource than the teacher or professor? Why is that? CS Lewis explains this phenomenon in his book on Psalms, noting that itís often easier for one student to explain because he or she has just learned it himself or herself and knows what itís like to struggle. Thatís our perspective in this blog. We are students sharing notes with you, our friends (and friends of friends).
Best Practice
In each blog entry we will give you a summary of the chapters for that day and an interpretation based on views of other commentators and our own thoughts.

We recommend that you read the full passages in the Bible either before or after reading the blog and decide for yourself what it means for you. We reference multiple versions of the Bible, but encourage you to use whichever version best suits you. The original written form of the Bible was in Ancient Hebrew, Ancient Greek, and Aramaic. Exact translations are difficult because of language, style, and context that are foreign to modern readers. Hence, each translator or team of translators sets out to provide the most accurate representation into modern languages, but their own assumptions and interpretations result in different words and phrases. Therefore, reading multiple versions helps us to have a better perspective.

Maybe after reading one or more versions you draw the same conclusions that we have regarding the passage for the day or maybe you conclude something different. Perhaps there is a distinct message for you that does not apply to all of the rest of us. We invite you to share your thoughts on the blog for that day by email, comments page, or Twitter.

At the beginning of each book of study we will share with you the references used in preparing the study so that you can read deeper into those commentators observations or find other analysis.
Let's Go!
We started the first tour on January 1st, 2011 and began each subsequent version on January 1st of the following years. If you missed some days you can go back and catch up, or just join us where we are and perhaps read the beginning chapters next year.
Genesis 1-4 (Let There be Life) - January 1st
Genesis 5-8 (Noah and the Flood) - January 2nd
Genesis 9-12 (Two Eternal Promises) - January 3rd
Genesis 13-17 (Patience is a Virtue) - January 4th
Genesis 18-20 (Sodom and Gomorrah) - January 5th
Genesis 21-23 (The LORD Provides) - January 6th
Genesis 24-25 (Isaac and Rebekah) - January 7th
Genesis 26-28 (Jacob's Ladder) - January 8th
Genesis 29-31 (Jacob Takes a Wife+) - January 9th
Genesis 32-35 (He Wrestles with God) - January 10th
Genesis 36-38 (Joseph Sold into Slavery) - January 11th
Genesis 39-41 (Dream On) - January 12th
Genesis 42-43 (It's a Small World) - January 13th
Genesis 44-46 (Family Reunion) - January 14th
Genesis 47-50 (End of the Beginning) - January 15th




































































Ruth 1-4 (Greatest Trade Ever) - March 20th
































































Ezra 1-4 (Return from Exile) - May 15th




Ezra 5-6 (Temple Built) - May 16th




Ezra 7-10 (Second Group of Returnees) - May 17th








Esther 1-3 (An Unlikely Queen) - May 22nd




Esther 4-6 (Deadly Pride) - May 23rd




Esther 7-10 (Esther to the Rescue) - May 24th








































Proverbs 1-3 (The Beginning of Wisdom) June 29th




Proverbs 4-6 (Though it Costs You All You Have) June 30th




The Wise Know When to Rest(Mid-Year Study Break ) July 1st




Proverbs 7-11 (It Appeals to Intellect) July 2nd




Proverbs 12-14 (The Wise Control Their Tongue) July 3rd




Proverbs 15-17 (Independence Occurs when We Commit to God) July 4th




Proverbs 18-20 (Truth, Justice, and Good Judgment) July 5th




Proverbs 21-23 (Warnings of the Heart) July 6th




Proverbs 24-26 (Like a Cloud Without Rain) July 7th




Proverbs 27-29 (Don't Boast About Tomorrow) July 8th




Proverbs 30-31 (The More You Know) July 9th



Ecclesiastes 1-4 (A Time for Everything) July 10th




Ecclesiastes 5-8 (Go Near to Listen) July 11th




Ecclesiastes 9-12 (Solomonís Final Conclusion) July 12th



Song of Songs 1-4 (How Shall I Describe Thee?) July 13th




Song of Songs 5-8 (Garden of Love) July 14th






































Jeremiah 46-47 (Oracles Against Other Nations) - August 18th




Lamentations 1-2 (Not Gonna Say I Told You So) - August 22nd




Lamentations 3-5 (S.O.S) - August 23rd


























Hosea 1-3 (Obedience of Hosea) - September 14th




Hosea 4-10 (Oracles of Hosea) - September 15th




Hosea 11-14 (Bridge to Redemption) - September 16th



Joel 1-3 (It's Not Too Late!) - September 17th



Amos 1-4 (Siren of Warning) - September 18th




Amos 5-9 (We Can Run But Not Hide) - September 19th



Jonah 1-4 (The Big Fish) - September 20th



Micah 1-4 (Popular Prophecies) - September 21st




Micah 5-7 (Walk Humbly with Your God) - September 22nd



Nahum 1-3 (No No Nineveh) - September 23rd



Habakkuk 1-3 (Suggestions for God to Consider) - September 24th



Zephaniah 1-3 (Seek Ye First the Rightousness of God) - September 25th



Haggai 1-2 (After the Exile) - September 26th



Zechariah 1-4 (Don't Repeat Mistakes) - September 27th




Zechariah 5-8 (God Calling) - September 28th




Zechariah 9-14 (Your King Comes on a Donkey) - September 29th



Malachi 1-4 (The End) - September 30th



---



































































2 Corinthians 1-4 (Shine On!) - December 3rd




2 Corinthians 5-9 (Reconcile to God) - December 4th




2 Corinthians 10-13 (Be Faithful and You Shall Be Commended) - December 5th



Galatians 1-3 (The Foolish Galatians) - December 6th




Galatians 4-6 (The Only Thing That Counts) - December 7th



Ephesians (The Church Is the Working Body of Christ) - December 8th
Philippians (Ode to Joy) - December 9th
Collosians (Keep Up the Good Work Ė But Watch Out) - December 10th
Epistles to the Thessalonians (Overview of Epistles to the Thessalonians )
1 Thessalonians 1-5 (Minor Corrections Required) - December 11th




2 Thessalonians 1-3 (Just a Friendly Reminder) - December 12th



Pastoral Letters (Overview of Pastoral Letters)
1 Timothy 1-6 (Guard What Has Been Entrusted To You) - December 13th




2 Timothy 1-3 (All Scripture is God-Breathed) - December 14th




Titus and Philemon (Two Distinct Letters) - December 15th








James (Be Quick to Listen and Slow to Speak)
1 Peter (Marks of the Christian Life)
1 John (Componets of God's Love)
2 and 3 John and Jude (Three Pithy Letters)








"The grace of the Lord Jesus be with Godís people. Amen (Revelation 22:21 NIV)."


Comments and Questions

Please send your comments and questions to the author at
ted@listeningforGod.org
or share your comments or question via the Listening for God Twitter account